On March 11, 2020 the sporting world across the globe came to halt. This was due to the fact that two athletes of the Utah Jazz basketball organization tested positive for COVID-19. As a result, the commissioner of the National Basketball Association (NBA), Adam Silver, decided to suspend the season. This decision had a domino effect on the rest of the sports leagues around the world. The NCAA basketball tournaments could not escape cancellation either. This meant that many senior athletes had their seasons cut short and played their final collegiate game. All in all, the month of March was a very disheartening month for those who devote their time and attention to the sporting world.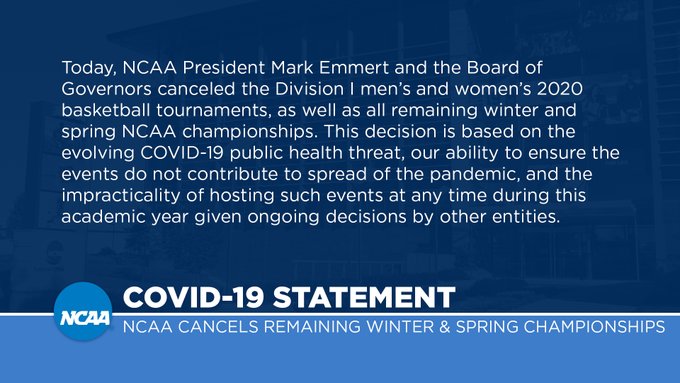 In addition, it could not be a more difficult time for those select athletes who will decide to take their talents to the next level of basketball. The possibility of cancelling Pre-Draft workouts deprives many athletes of an opportunity to elevate their their current draft stock. Additionally, NBA scouts might have had their last evaluation of 2020 NBA Prospects during the last week of the regular season. This means that many athletes might be overlooked if NBA scouts have not been doing their homework throughout the year. This brings to mind, Illinois sophomore, Ayo Dosunmu. There is no doubt that he was one of the more praised sophomores coming into the college basketball season. There is some debate as to if he lived up to expectations at the beginning of the season. In fact, Dosunmu struggled to shoot the ball efficiently during the first four games of the season. Additionally, he failed to reach double digits scoring in two of the four games. As a result, his draft stock may have been trending downwards at this point.
Road to the NBA Draft
It only takes one play to garner national attention and Ayo Dosunmu continued to make those type of plays, time and time again this season. This highlight stood out to me the most. Just two games prior, Dosunmu slipped and went down hard in a loss to Michigan State. Many Illinois fans were wondering if the injury could be season ending. Thankfully, it was not. But absolutely no one could have predicted what would be in store for Dosunmu. He was a game-time decision heading into Illinois' road tilt with Penn State. He went through warm-ups and made his decision that he would play.
Ayo Dosunmu🍊🍊

A week after being carried off the court, he returns to lead the Fighting #Illini to a victory on the road over No. 9 Penn State, including this bucket that put the game on ice❄️pic.twitter.com/67ZOMfW2yN

— Stadium (@Stadium) February 19, 2020
Dosunmu finished the game with twenty four points and a game sealing shot. As stated before, this wasn't the only time he delivered when the pressure was at its highest. On January 25th, Illinois traveled to Ann Arbor hoping to extend its five game winning streak. It was a back and forth contest, with neither team giving an edge. Once again, it came down to the final shot and Dosunmu delivered.
Ayo Dosunmu FTW 🔥@IlliniMBB gets the road win over Michigan! pic.twitter.com/UH1ywy8B5B

— NCAA March Madness (@marchmadness) January 25, 2020
These performances did wonders for Dosunmu even helping him gain the nickname "the closer" by CBB announcers. Dosunmu's season might have been outstanding in the view of fans, but was it enough to impress NBA Scouts? I thought it be best to reach out to someone I trust to find out.
NBA Scout talks Dosunmu Outlook
At this point of the year, there are always many sites conducting NBA Mock Drafts. Fortunately, I only trust very few so I reached out to my friends at BabcockHoops.com to discuss the draft. Derek Murray, Video Scout at BabcockHoops.com, took sometime to discuss what the future may hold for Dosunmu. He stated that he became a big fan of Dosunmu this season. In fact, he believes that Dosunmu has a lot of skills and attributes that could translate to the NBA. In particular, Murray believes Dosunmu's strengths are in isolation.
"Ayo is really good in isolation, and an excellent finisher at the rim. He's a fantastic athlete with a quick first step, so he's often able to get around opponents at the point of attack. He also does a great job pushing the pace and bringing energy in transition. Because of his athleticism, defenses have to be aware of where he is at all times. He has a solid Eurostep and hang-time to finish in tight spots. In isolation, Ayo currently ranks in the 91st percentile at 1.074 points-per-possession. I like his ability to get downhill and attack the basket, and think that this will translate nicely to the next level. Finally, Ayo elevates well around the rim and has displayed solid body control averaging 1.286 PPP around the basket; I envision him as a pace keeping playmaker who can spark an offense in both isolation and transition."
In addition to the strengths of his game, there are some things that you can't teach. Leadership is one of those characteristics. As stated before, Dosunmu doesn't fear the pressure of taking the last shot. And there simply aren't enough guys that are like Dosunmu in that regard.
"Ayo is always ready to attack. I appreciate that in a player. There isn't much fear in his game and he's not hesitant to put the team on his back and try to carry the load. I always enjoy when players can assume that role, and it appears that he is mentally willing to do just that." 
This paints a rosey picture of Dosunmu's draft stock. However, just like every player in the draft, there are aspects of his game that he can improve upon. One of the main disappointments of Dosunmu's game was the step back he took in his three-point shooting. In fact, his three-point percentage dropped from 35% to 29% this year. That's not going to get it done, especially if he plays off the ball in the NBA. Additionally, Murray believes that Dosunmu's decision making is questionable at times.
"His catch-and-shoot definitely needs to be improved. He only ranks in the 30th percentile right now and if he wants to succeed at the next level, this will have to become a reliable part of his offense. A lot of misses seem to come from poor pre-shot footwork. He tends to set his feet after he catches the pass, which slows him down and allows the defender to contest the shot. In addition, Ayo's balance and weight distribution are also unconventional, in that he generally lands with one foot considerably farther forward than the other. This causes inconsistencies in release points and likely points to the 29.6% from deep. Also, at times he has been very turnover-prone, 10 games with at least 4 turnovers. If he is your team's primary ball-handler this will have to improve and be cleaned up."
NBA Draft Projection
Understanding the nuances of Dosunmu's game from an NBA Scout's point of view is interesting but most individuals just want to know whether Dosunmu should enter the draft or not. Depending on who you ask, Dosunmu is a late first round pick to a late second round pick. Surprisingly enough, BabcockHoops.com ran a NBA Mock Draft Simulation recently and Dosunmu was not selected. According to Murray, if Dosunmu were to declare for the 2020 NBA Draft, he sees him being selected in the 40-49 range. This would put Dosunmu as a mid-to-low second round selection, which means that there is very little guaranteed money for Dosunmu. It is Murray's opinion that Dosunmu should spend one more season in college before declaring for the NBA Draft.
"Right now, he's competing for a draft spot with guards in the 35-50 range. These include guys like Jared Butler (Baylor), Malachi Flynn (San Diego State), Payton Pritchard (Oregon), and Markus Howard (Marquette). I believe Ayo should return to school and compete for B1G POY as well as a Round 1 selection in the 2021 Draft. His speed and athleticism are known commodities, so if he can add a consistent deep ball he can really improve his stock and potentially shoot into the 1st Round. 
If Ayo were to elect to enter the NBA Draft, I feel that he would be best suited in a system that pushes the pace. This would allow him to run in transition and also utilize his speed/finishing in one-on-one situations. The Toronto Raptors, Denver Nuggets, and Miami Heat are each top-10 in pace this season. While he will likely need some time to refine in the G-League, these feel like fits."
The four players that Murray mentioned all had outstanding seasons in their own right. Additionally, each of these four players were part of the final consideration for the Wooden Award, given to the Most Outstanding Player in Men's College Basketball. It would be difficult to argue that Dosunmu had a better season than each of them. That's why I am in agreement with Murray. It would be best for Dosunmu to come back to Illinois for his junior season even if he has nothing to prove at Illinois. He has a stronger chance to make guaranteed money if he elects to enter the 2021 NBA Draft. Dosunmu is a consistent jump-shot away from being able to compete as a lottery pick in the 2021 NBA Draft. It makes no sense for him to rush into the NBA until there is more clarity in the world of sports. If Dosunmu comes back to college, he not only could reunite with former Mac Irvin Fire teammate, Adam Miller, but help Illinois reach it's first final four since 2005. Whatever his decision is, Illinois fans will support Dosunmu and his family throughout the process. With the month of April beginning, all eyes will be on Dosunmu awaiting his decision.
For more on Illinois Basketball, follow me on Twitter @asethi03.